Benefits of RF Microneedling Treatment in Newington, NH
RF Microneedling is a non-invasive cosmetic treatment that combines micro-needling and radio frequency (RF) energy to improve skin texture, reduce fine lines and wrinkles, and restore collagen production. This procedure is a perfect alternative to invasive surgeries such as facelifts, which require significant downtime and potential pain. If you're considering RF microneedling treatment and would like insights from a knowledgeable and experienced skincare specialist, contact us at Seacoast Rejuvenation Center. Or, if you're ready to commit to an appointment, you can book in online at your earliest convenience. We are conveniently located at 101 Shattuck Way, Suite #1, Newington, NH 03801.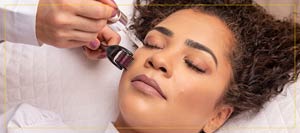 Table of Contents:
What are the benefits of RF microneedling?
How long do RF microneedling results last?
What is the success rate of RF microneedling?
How often should I get RF microneedling?