Laser Hair Removal Specialist in Portsmouth, NH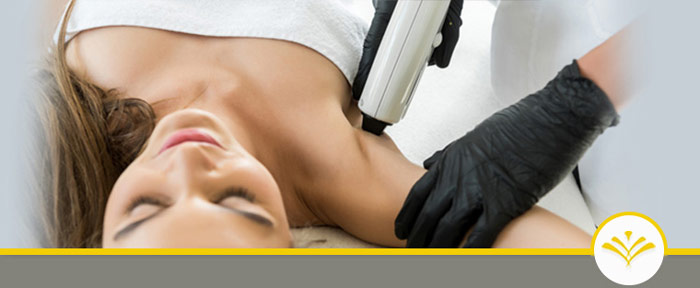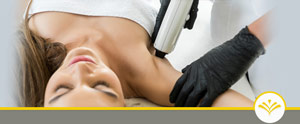 For men and women who are tired of wasting time waxing, shaving, and tweezing, laser hair removal is an excellent procedure that provides safe, effective, and permanent hair removal. If you want to be summer ready all year long, let the experienced professionals at Seacoast Rejuvenation Center in Newington help you save time, energy, and money when you schedule a laser hair removal treatment.
Laser hair removal works by using pulsed light created by a laser system to destroy the hair follicle. This stops hair growth at the source and keeps your underarms and legs super smooth. The pigment in your hair follicles absorb the light when passes through your skin. This means that existing hairs are rejected and shed by your body in approximately 2-3 weeks following your procedure. Future growth is stunted and eventually stopped entirely. Complete hair removal typically takes 6-8 treatments, depending on the individual being treated and the desired treatment areas. Other factors including hair color and skin tone can also have an impact on the number of required sessions. For maximum effect, your laser hair removal sessions should be scheduled about 5 weeks apart.
Preparing for your laser hair removal appointment at Seacoast Rejuvenation Center is relatively simple. There are a few basic guidelines that should be followed prior to your appointment. You will be required to stop the use of self-tanning products and tanning beds for about a month leading up to your session. You must not tweeze, wax, or have electrolysis performed for at least 2 weeks prior to your appointment. You cannot dye your hair for a few weeks prior to your appointment and it is important to avoid skincare products that contain BHAs, AHAs, and retinoids for about 1 week prior, as these may cause skin irritation. The day before your laser hair removal session, you will be asked to thoroughly shave the area that is scheduled for treatment.
At Seacoast Rejuvenation Center, we strive to delivereach of our clients with the best laser hair removal experience. During your treatment, you will be provided protective eyewear for your safety. We also use a topical anesthetic to numb the treatment area and make the laser hair removal process as comfortable as possible. Most patients experience a slight stinging sensation as the laser comes in contact with the skin. Many clients describe the sensation as feeling like the snap of a rubber band. Following your treatment, ice or anti-inflammatory cream may be used to soothe the treated area.
You may experience sensitivity, redness, or itching after your treatment is complete. If there is any chance that a treated area might be exposed to the sun, they should always be protected by a high-quality sunscreen. You may gently use an exfoliating scrub or washcloth when showering to encourage the shedding of hair in the treated areas. It is important to treat your skin delicately between your laser hair removal sessions to avoid irritation.
If you are interested in laser hair removal services near you in Portsmouth to permanently remove hair from your underarms, face, legs, back, or bikini area, call Seacoast Rejuvenation Center in nearby Newington, NH to schedule your consultation. We treat people from all surrounding areas as well! Call us for more information or schedule an appointment online! We serve clients from Newington NH, Portsmouth NH, Durham NH, Newmarket NH, Stratham NH, Dover NH, and Rye NH.