HydraFacial Specialist Q&A
HydraFacial will help boost your looks and confidence. Learn more about this new treatment today. Call us today or visit us online to book an appointment. We are conveniently located at 101 Shattuck Way Suite #1 Newington, NH 03801.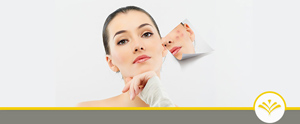 Table of Contents:
What is a HydraFacial treatment?
What are the benefits of a HydraFacial?
How much does a HydraFacial cost?
Is the HydraFacial Customizable?
What is a HydraFacial treatment?


A HydraFacial treatment is an all-in-one, non-invasive, non-abrasive, non-laser, skin rejuvenation device that delivers cleansing, exfoliation, extraction and hydration to the face. This patented system uses a unique swirling Vortex-Fusion action and gently vacuums dead skin, dirt and debris, and other impurities from the surface and pores of the face. At the same time, the device also hydrates, and soothes the skin with antioxidants, hyaluronic acid, peptides and other essential nutrients to help rejuvenate the skin. The HydraFacial rejuvenation system is able to deliver the necessary ingredients to the skin that help restore environmentally damaged skin, as well as improve the tone and texture of the skin, and add firmness that reduces the appearance of fine lines and wrinkles.
What are the benefits of a HydraFacial?


Essential nutrients in the face serums, tailored specifically for your skin type, are allowed to penetrate deep into the skin due to the deep cleaning of debris and exfoliation of the pores performed by the HydraFacial. There is good reason that HydraFacial treatments are growing rapidly in popularity across the United States, due to its non-invasive and incredibly hydrating ability, and the fact that in 30 minutes the results of a more even-toned, glowing, and refreshed looking skin, instantly, and with no downtime.
Regardless of whether your skin type is oily, flakey, acne prone, or if you have combination skin, HydraFacial treatments are suitable for all skin types. The process is painless and non-irritating to the skin, despite the exfoliation and extraction process, and delivers hydrating serums that leave your skin feeling smooth and radiant. Because HydraFacials are non-invasive, they can be used in conjunction with other skin care treatments.

Because HydraFacial treatments are suitable for all skin types, including those with sensitive skin, a variety of improvements can be achieved, quickly, and painlessly, including:

• Improvement in skin texture
• Reduction of fine lines and wrinkles
• Removal of brown spots
• Improved oily skin
• Improved elasticity and firmness
• Increased vibrancy

Your HydraFacial will be performed in a comfortable, and private treatment room, and your aesthetician will provide you with the options available to you based on your skin type.
How much does a HydraFacial cost?


Costs of HydraFacial treatments will vary for a variety of reasons, like geographic location, for example. You'll likely pay more for treatment in Beverly Hills than in Wichita. Pricing and options can be discussed at our clinic here in Newington, NH. Other factors may include the level of expertise and training of your skin care professional, or the aesthetician performing the treatment. In addition, each patient's needs and goals are unique, and require a customized treatment. An accurate cost can only be determined following a consultation with a skin care professional. Contact Seacoast Rejuvenation Center to arrange a consultation to determine an accurate cost for you.
Is the HydraFacial Customizable?


Because every person has different needs when it comes to skincare, as well as unique aesthetic goals, your skincare professional will be able to customize your treatment to address your specific needs. An experienced aesthetician can create a customized plan to treat your specific needs and aesthetic goals, whether you have clogged pores, dry or rough skin texture, or if your goal is to reverse the natural appearance of aging.

There are a wide variety of professional skin care treatments and skin rejuvenation options available, and it can be challenging to know which is best suited for your specific needs. It is always a wise choice to speak with a skincare professional.

At Seacoast Rejuvenation Center, in Newington, NH, our highly skilled aestheticians, and skin care specialists, are available to assist you in creating a customized HyrdaFacial treatment plan to meet your skin care goals and aesthetic needs. Send us a text, call our center, or visit our website to arrange your consultation appointment. We serve clients from Newington NH, Portsmouth NH, Durham NH, Newmarket NH, Stratham NH, Dover NH, and Rye NH.